The IOS version will be available soon
Hell of the multiplication tables ! Yet they are the foundation for student learning in mathematics. How can you help your child to become an expert while playing ? Kotiledon has been thought as a game, not an exercice. This subtlety enables everybody to set aside the rigid appareance of the multiplication
tables in order to focus on the pleasure of the game playing. Furthermore, for parents and elderly people seniors it is an apportunity to make his brain work but also to spend a good time with the your family.
Maths are a child's play !
Align 3 or 4 pawns, add up the points and win the game. It is as simple as that. To put down each pawn, you will have to multiply the result of the dice by the selected table. Then be strategic and put place your pawn at to the best place.



REVISE AND LEARN WHILE HAVING FUN
Try FREE
You can play alone or in pairs. We prefer in pairs ! It works on your Androïd smartphone or on your Androïd tablet. Simply download the application, either on version free trial or full game for 2,49€. Then it is very simple :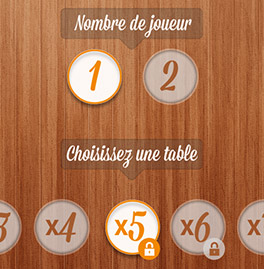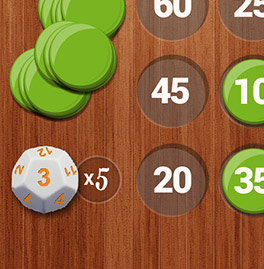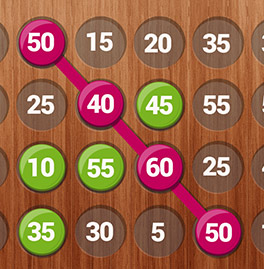 Select the number of players and a table
Roll the dice and multiply
Make lines of 3,4,5 or 6.
If you have made eg "3x5", you will see two slots available for the result "15". To you then position your pawn on one of the two positions to draw make a line and win earn points.
Note that you can put a pawn on top of over your opponent's.
A dice will appear on the screen, tap on it to launch it. Then multiply the number shown on the dice by the selected multiplication table, the number is next to the dice.
From 1 to 2 players, tables from 1 to 12.
You can play on your own alone or in pairs two (against each other one against the other).
Play to learn, play for fun and play to maintain his memory. At each age its usefulness.



This is the learning phase, the child is in high demand.
The application throws more fun and a new angle multiply..
From the 6th, learning tables is taken for granted. There is no longer control nor training. However, in practice most students are not able to multiply.
Of Quiet time : our memory is much less stressed. It is time to ask it a little more effort besides crosswords, Sudoku, there is now another choice.
Test yourself ! The first 4 levels are free !
An educational application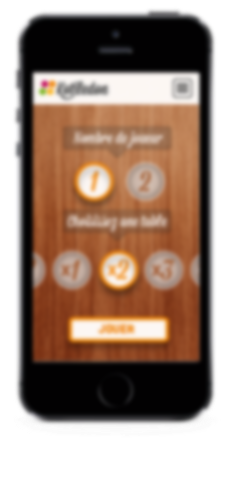 Kotiledon is born from the meeting of a platform game designer, Christian Bolzer and Digimob company, specializing in creating mobile applications.The spirit of an educational game adapted to the digital tool seemed a nice challenge (and especially to make it affordable available at low cost to parents, schools and retirement homes).
The application currently has two themes (the graphic). You can choose the 'option' menu. Remember to update the application. We regularly prepare new free themes !
Want to talk ? Do you have ideas to improve the game ? You have spotted a bug ? An application for internship ? A dedication ? Or just come for a coffee… Contact us.

Rue Edgar Quinet,
29000 QUIMPER